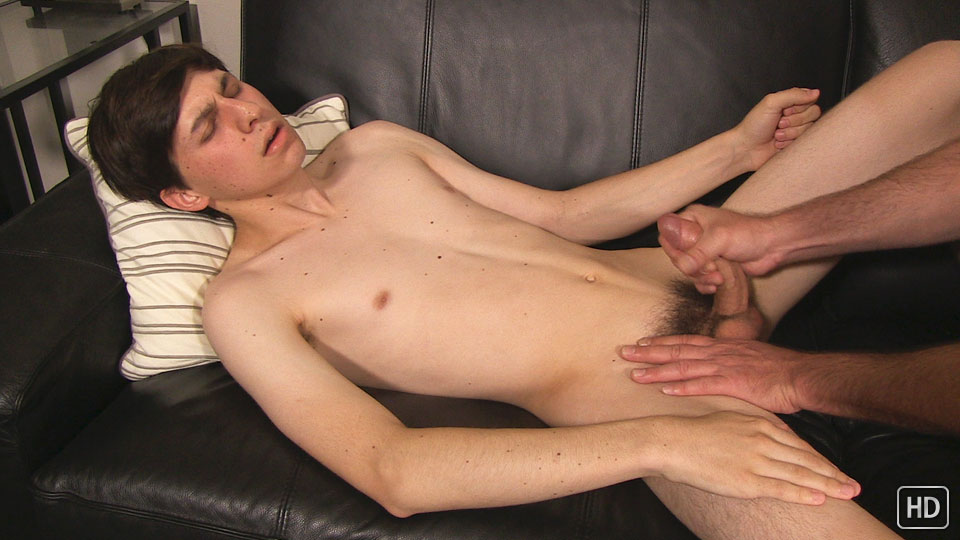 Watch the full scene:
Join Now!
Davey, you'll probably notice, is a bit of a departure from the types of guys typically featured on SW. He's 18 y/o and... well... kind of twink. But str8, complete with a girlfriend who had no idea he was coming over to try his hand at porn for the first time.
In honesty, when he applied to model, at first I was going to pass on him, but after talking with him on the phone and hearing how eager he was, I thought it might be worth giving him a shot. That, and the pics he sent in showcased a pretty big dick -- gotta scratch your head and wonder how the skinny white boys got that gene.
Despite being all gung-ho before the shoot, Davey showed up visibly nervous. Which made me nervous that this shoot was going to be a bust. And then he unzipped his shorts and out popped a rapidly growing boner. Davey's mind might have been on the fence about getting naked for the world to see, but his cock was wayyy ahead of him.
And, actually, he was kind of natural in front of the camera for a first-timer. Without much direction at all, Davey thrust his hips to fuck his hands, softly moaning while stroking, and bent right on over to show off his hole without hesitation. Made me wonder if he'd done some practicing ahead of time.
When Davey said that he'd never measured his dick, I couldn't resist pulling out the measuring tape (a little over 7 inches, if you're curious). With just the slightest grab, his body convulsed and he nearly busted a nut right then. Seeing his reaction, I gave a few more strokes and guess what: he popped all over his abs. Talk about a hair-trigger! Ah, to be 18 again. (wink)
Tags: Helping Hand