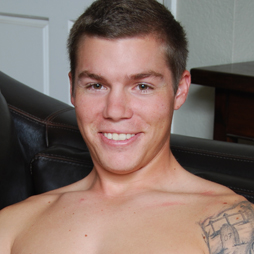 Age: 22
Height: 5' 8"
Weight: 160
Shoe: 8 1/2
Cock: 6" x 5 1/2"
Orientation: Straight
Cliff wasn't sure he was cut out for being in porn. I couldn't differ with him more. His beaming smile and toned bod were definitely enough to turn my head.
As it turns out, Cliff is quite the performer in front of the camera, too, and his dick seems anxious to go along for the ride. Then again, maybe it's the one driving the show.
Either way, Cliff is a welcome addition to SW and I hope we'll be seeing him again very soon!
Tags: Muscular
Videos
Photos
Bonus Scenes