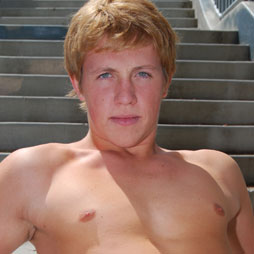 Age: 20
Height: 6' 4"
Weight: 200
Shoe: 12
Cock: 6" x 5"
Orientation: Straight
Ian mentioned before we met that he's a bit of an exhibitionist. Just the kind of guy I like to put in front of the camera! Certainly doesn't hurt that he's easy on the eyes, to boot.
Ian seems to be pretty singularly resolved to "solo only" videos. But maybe we'll see him getting a little more guy-friendly down the road.
Tags: Blond