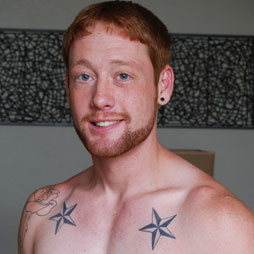 Age: 21
Height: 6' 1"
Weight: 190
Shoe: 12 1/2
Cock: 8" x 5 1/2"
Orientation: Straight
Darren really surprised me. He had emailed asking about modeling for the site. Twice actually! Sounded like an eager beaver, but the pictures he sent were, well... not great. Dark and blurry. When we made arrangements to meet in person, not only did I find out that he's got red hair (I couldn't even tell that from his pics), but he's quite good looking and has a really great cock.
And even though he claims to be nervous during his solo, I don't think you'd ever guess it. To me, he warmed up quickly and did a great job for his first time in front of a camera.
In my opinion Darren is a keeper and I hope we'll be seeing a lot more of him.
Tags: Hung, Redhead/Ginger, Muscular
Videos
Photos
Bonus Scenes