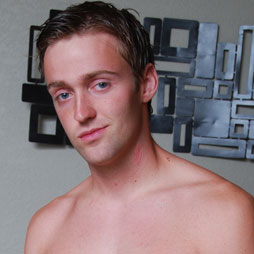 Age: 23
Height: 6'
Weight: 165
Shoe: 10 1/2
Cock: 8" x 5"
Orientation: Straight
Ever had a friend who came up with wild ideas and talked you into doing them? That's Zack in a nutshell.
He's a try-anything-once kind of guy and he'll get his buddies on board, too. Hence, showing up for his shoot with Keenan.
Even though his girlfriend knows he's yankin' his cock on camera, Zack seemed to think that was about as far as she'd let him go. But who knows? I don't think Zack would have any problems trying something a little more than a solo next time.