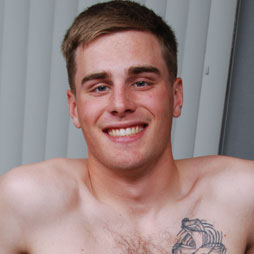 Age: 20
Height: 6' 1"
Weight: 175
Shoe: 12
Cock: 7" x 5"
Orientation: Bi-curious
I was on the phone with Evan before ever seeing a picture of him and I just knew while talking with him that he was going to be a gem. He had that "Aww, shucks" thing in his voice that makes my knees go a little weak.
The pics he sent in only confirmed what my gut was telling me. Blond, blue-eyed, hairy-chested lil' hottie!
And Evan, being a young and open-minded guy, seems eager to explore some of the other prospects available here at SpunkWorthy-land. I'm sure we'll be seeing him again!
Videos
Photos