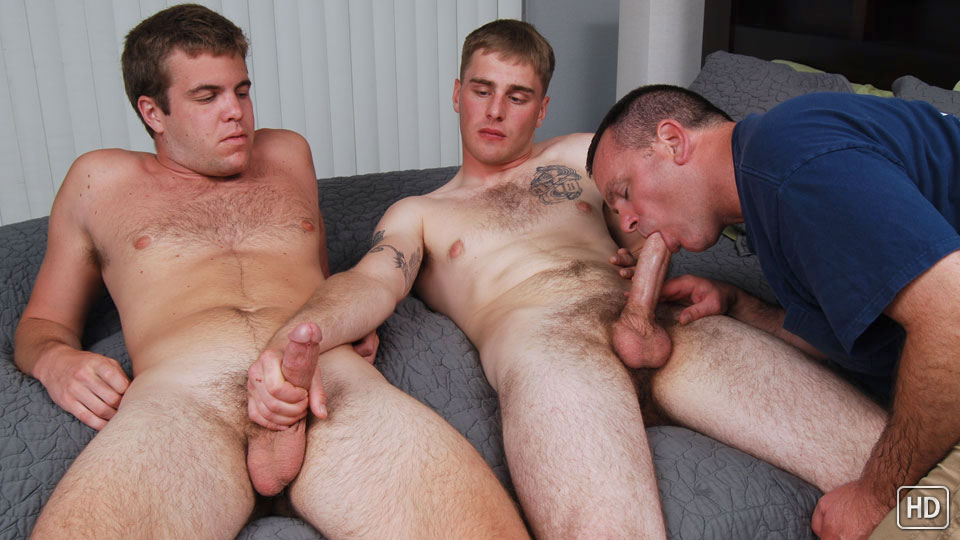 Watch the full scene:
Join Now!
Double score! Wes and Evan had gotten in touch around the same time, asking about opportunities to make some more cash. So, this week I thought I'd try something new and got them both on camera for a side-by-side blow job.
Neither of them had met, and knowing that getting their dicks sucked together would be a new thing for them, we took a little field trip down to the nude beach here in San Diego to break the ice and take some pics. By the time we ended up ready to shoot the video, the guys were both pretty horned up. To the point that things went beyond what I expected.
As what seems to be normal for him, Wes was ready to go with a hard-on before his shorts dropped. As I started working on Evan's shaft, he gave Wes a "Why not?" look and reached over to give him a hand.
When I switched to Wes, he returned the favor, stroking Evan's cock while his was getting sucked.
A lot of the interaction between them went unnoticed until I was editing the video. It was especially hot to see the unspoken things going on: they seemed to get off by watching each other while their cocks were being serviced. At one point, Wes said I needed to stop cos he saw himself on the camera and was going to cum too soon!
Wes was the first to blow his wad with Evan watching on with curious eyes. Wes was so horned up that it took just a few strokes to get him to the edge.
Next, it was Evan's turn. He gasped as he was getting ready to cum, and spilled his creamy load onto his pubes. I scooped some up and, without hesitating, he licked a glob of his spunk off of my hand.