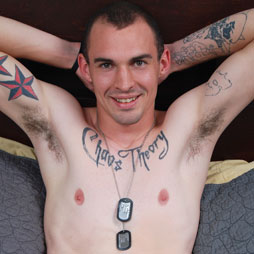 Age: 21
Height: 6' 2"
Weight: 165
Shoe: 12
Cock: 7 1/2" x 5 1/2"
Orientation: Straight
Mike was so excited about his first porn shoot that he showed up almost 2 hours early! I like that kind of enthusiasm. Even if it did make for an awkward moment when I answered the door in my boxer shorts.
He also seems to like the idea of people getting off watching him. Always a plus in my book.
Since he considers himself straight (although he's very open-minded, apparently) I'm wondering how far things can go. I'm pretty sure we'll be seeing him again. Along with his crazy huge cumshot!
Videos
Photos