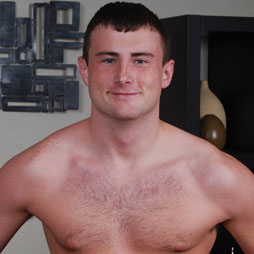 Age: 20
Height: 6' 3"
Weight: 195
Shoe: 12 1/2
Cock: 7 1/2" x 5 1/2"
Orientation: Straight
Brody was really eager to make an impression. He was rarin' to go as soon as we met.
He's definitely the kind of guy who I think fits in really well with the SpunkWorthy "type," being a big jock-y straight dude. He's the kind of guy I know I'd be sneaking glances at if I saw him in the lockerroom.
Brody seemed somewhat open to going a little further with some on-camera experimentation. I'm not sure whether it will happen or not, but I am keeping my fingers crossed.
Videos
Photos
Bonus Scenes