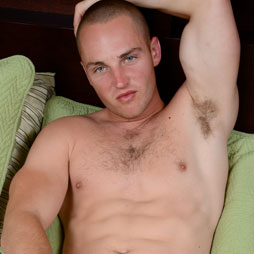 Age: 25
Height: 5' 7"
Weight: 165
Shoe: 8
Cock: 5 1/2" x 5"
Orientation: Straight
Dean's larger-than-life personality certainly lends itself to being in front of the cameras. Not to mention that he seems hell-bent on putting on a hot show for them!
Although he considers himself straight and open minded, I'm not quite sure what it'll take to get him to take the next step and do anything with a guy. He's one who I'm hoping will end up exploring that side of his sexuality a little more, given the right incentives.
Tags: Muscular
Videos
Photos
Bonus Scenes