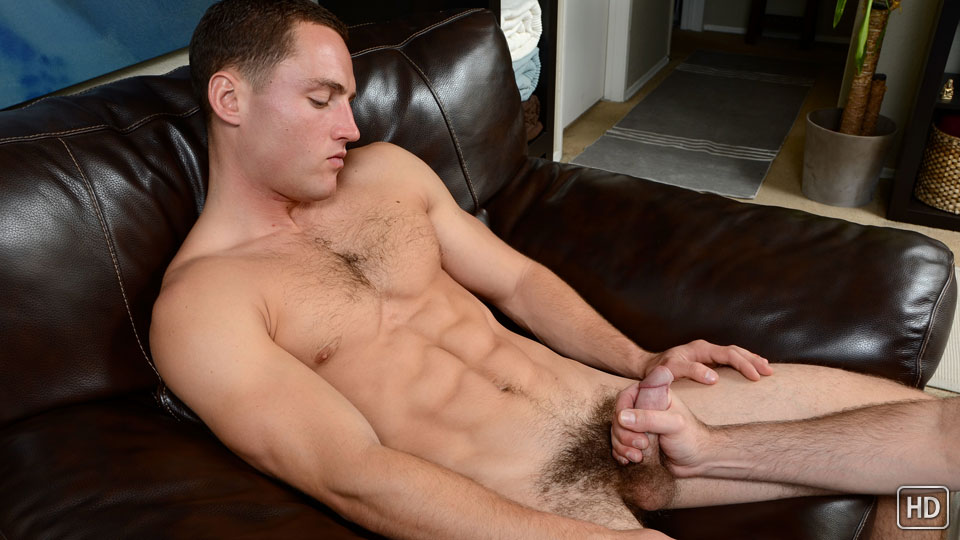 Watch the full scene:
Join Now!
It'd been so long since I'd heard from Dean that I figured his happy-ending massage had crossed the line so far beyond his comfort zone that we might not ever see him again. Little did I know!
He got in touch not too long ago saying he was ready for something more. And when he said "ready" he definitely wasn't kidding. Dean showed up with a week's worth of cum stored up and was already pitching a tent in his shorts when he walked in the door.
Off came the shorts and out popped a raging boner. As I lubed up his cock, Dean lay back on the chair and immediately had the facial expression that told me his dick was about to explode. We even had to stop a couple times.
I grabbed the camera for some close up POV shots of his cock getting stroked, then pushed his legs back, letting him finger his ass while I tried to keep him from cumming too soon. Once my finger found its way in his tight hole I had him jump up on his knees. Dean slowly backed himself up against my finger, pushing it down his ass.
That was about all Dean could take being so close to the edge of busting. He turned back over and I wrapped my lips around his cock to suck him off. Within a minute, Dean was squirming in pleasure as thick dollops of jizz streamed out onto his stomach.
Tags: Helping Hand, Oral, Muscular, Hairy