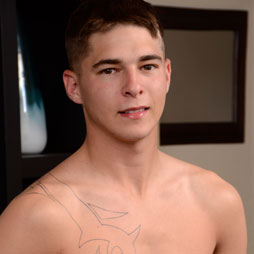 Age: 21
Height: 5' 9"
Weight: 135
Shoe: 9
Cock: 6" x 5"
Orientation: Straight / Bi-curious
"Variety is the spice of life." Alec is a bit of a departure from the type of guy I normally feature on the site, but something tells me he is going to be the one who pushes the boundaries and gets some buddy competition going on. He's already pulled a couple other friends on board for some video work (besides Nevin), so I foresee some interesting shoots coming up.
Cute face. Lots of foreskin. Likes to show off. But what really blew me away was the incredible ASS Alec is packing. For a thinner guy, I wasn't expecting his bubble butt. And if you know me at all, that earns some serious points in his favor.
Alec identifies as str8 and has a girlfriend (who has no idea he's doing porn, so shhhhh!) But behind his innocent looking eyes there seems to be some curiosity about how guys get things done. With all that said, you can be pretty sure you'll be seeing him again soon. At least if I have any say in it.
Tags: Uncut
Videos
Photos