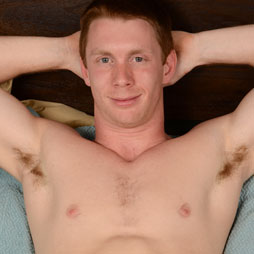 Age: 24
Height: 6' 2"
Weight: 190
Shoe: 12
Cock: 6" x 5 1/2"
Orientation: Straight
For guys doing porn for the first time, sometimes it can be hit or miss. Nerves can get the better of them, or they could be natural-born show-offs. Seth fell pretty much evenly between those two points, but was determined to overcome his nervousness and put on a good show. I was impressed!
Seth is one of those guys who pretty much shut me down when I mentioned doing anything more than solo work. But I've heard that before, so I'm keeping my fingers crossed that he'll change his mind (or that I'll be able to change it for him with some extra cash...)
Keep an eye out for more of Seth down the road!
Tags: Redhead/Ginger
Videos
Photos