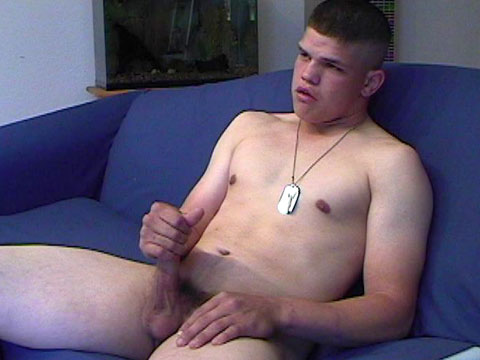 Watch the full scene:
Join Now!
I have a small weakness for Military guys, and even moreso for the really "grunty" looking ones. Alex fits that description perfectly. One of my buddies described him as "the type of guy who was born to carry a gun." And that's pretty accurate. Alex is 20y/o and an infantryman in the Marines. When I asked him what he likes to do for fun he told me flatly, "shooting my rifle."
Alex is from a small town in the midwest and was a big jock in high school, playing football, baseball, and wrestling. His favorite? Football. And why? "I like hitting people." Okay, so he's a little short on words and seems to be pretty much into the whole violence thing.
When I picked him up from the train station he told me that he was "nervous as hell" about doing the video, so I was surprised at how quick his dick stood at attention. The lube just barely got rubbed on and he's got an insta-boner. Alex's cum-face is a classic one and when he blows, the jizz runs all the way down to his balls.