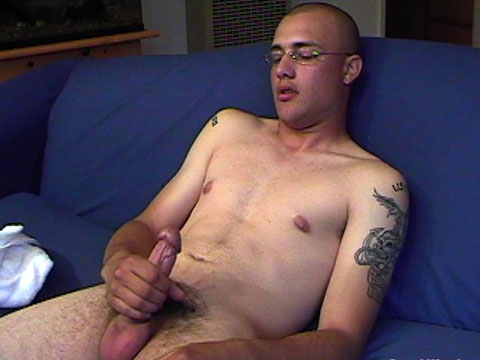 Watch the full scene:
Join Now!
Oo-rah! Joe is an 18y/o US Marine who's buddies with Alex. He called me up a day or two after Alex came by wanting to do a video, too, but unlike Alex, Joe is a total show-off and loves being on camera. In fact, he and his buddies in high school used to go to college parties, pick up on girls, and he would fuck them while his buddies stood by cheering him on and video-taping the whole thing.
Joe is originally from Chicago and played football and hockey growing up. He's definitely one of those str8 guys who's comfortable in his skin. He and his Marine buddies will sit around watching porn together and jerk off. Oh, to be a fly on the wall when that happens.
Joe has got a pretty big dick. I asked him if he usually shoots when he cums, but didn't know cos, he says, "I'm usually drunk when I jerk off." Well, we find out together that the answer is certainly: YES. He splatters cum all over his chest and stomach.
"Give me a target next time and I'll aim for that!" Not a bad idea, Joe.
Tags: Big Cumshot, Hung