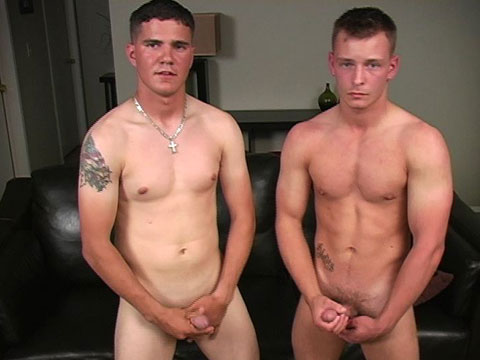 Watch the full scene:
Join Now!
I met Burns, the muscle-dude on the right, online and asked him about being in porn. He had just turned 18y/o and is in the Marines. When he showed up I was surprised to see that he had brought along his roommate, Danny, who's also in the Military.
Danny had come along just to, "See what this was all about," and was more or less being Burns' wingman. But I could tell he was curious about getting naked, too, so I suggested them doing a shoot together. Burns wasn't so into it at first.
"That's a little too gay to jerk off next to my roommate."
Danny is more adventurous and was all for it. Along with offering some extra cash, he was quickly becoming my wingman and ended up talking Burns into doing it.
I kept catching Danny sneaking peeks at Burns. And every once in a while, Burns would sneak one back at Danny. Their cumshots were almost perfectly timed together, and Danny couldn't resist watching while Burns was blowing his load. Makes you wonder if there's a little secret they're keeping from us. Don't ask, don't tell!