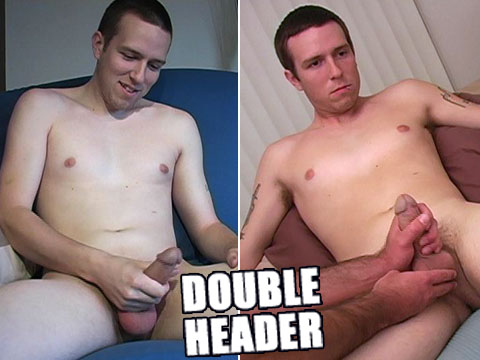 Watch the full scene:
Join Now!
Spike is 19y/o and lives, eats, and breathes skateboarding. But he also has a long-time fantasy of being in porn. He was visiting San Diego and answered an ad I had put up. This week you're getting two videos showing Spike's progression from his first time showing up on camera, to a few months down the road when he gets his first ever hand-job from a guy!
Spike says he might have some trouble getting hard in his solo video, but I think he was a lot more turned on by being in front of the camera than he was nervous. He was ready with a big boner in a matter of seconds. And when I asked him to show off his ass a little, next thing I know he's shoving a finger up it!
When Spike came back for his Helping Hand video, he had "saved up" for few days. He was afraid he wouldn't be able to get hard with a guy jerking him off. But the exact opposite happened and we had to stop a couple times or he was going to cum too soon:
"Pretty much as soon as you touch it, it feels like I'm gonna cum."
So we took it slow, but in the end I stuck my finger up his ass and the str8 sk8ter spunk was flying!
Tags: Helping Hand