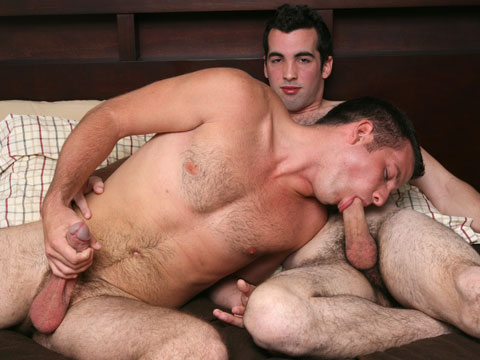 Watch the full scene:
Join Now!
Mason, it turns out, is a little more "bi" than just "curious." And since his high school buddy, Gabe, has been exploring his sexual boundaries lately, I thought things might get interesting if they were paired up for a shoot.
I told Mason ahead of time to take the lead and push Gabe's limits a bit. And Gabe, to just go with with the flow, of course, with the promise of more cash the further they went.
And things went a little further than even I had imagined! The guys start out jacking off when Mason moves in to jerk off Gabe. Gabe's cock perks up to attention so Mason goes in for some b/j action.
Gabes response? Push Mason's head down on his dick. And Mason takes it all the way while Gabe's eyes roll back in his head, clearly never realizing that guys can give pretty damn good head.
Gabe ends up face fucking Mason then pushes him over to blow a huge load all over his chest while Mason jacks off onto his stomach with a loud, vocal cumshot.
The guys rated the experience a 25 out of 10 on the awkward scale for their first time fooling around together. I'd say it's about a 50 out of 10 on the hotness scale, though.