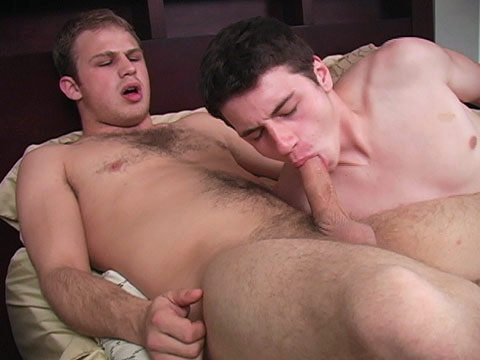 Watch the full scene:
Join Now!
Kyle was in town visiting a friend and called over to see about doing a scene while he was here. The first person that popped in my mind to hook him up with was Corey. Two hot uncut guys? You've gotta love it!
At first, Corey is a little quiet, but is anxiously playing with his dick as the cameras get started. Kyle takes the lead and starts sucking on Corey's cock, while Corey grabs the back of his head and shoves Kyle down on it. Kyle gets his turn next as Corey opens up and swallows his dick, spitting on it and licking it up.
The guys move into 69-ing, and while Corey is gagging down Kyle's cock, Kyle is down below playing with Corey's ass and sucking him off with Corey's balls slapping against his face.
Kyle jumps up to his knees and face fucks Corey, unleashing his load all over Corey's face, while Corey jacks off and covers his chest and stomach with jizz.