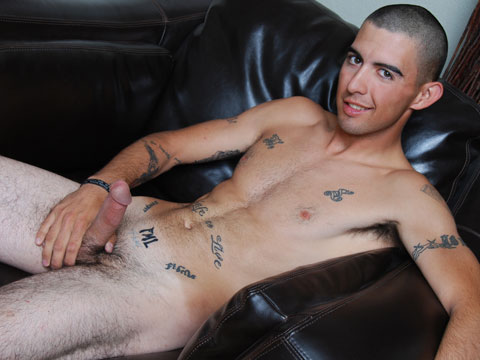 Watch the full scene:
Join Now!
Myles is a tall and lean dude who found his way out to San Diego compliments of the military. When he heard about the chance to make some cash whacking off on camera, his confidence about it was a sure-fire sign that could only mean one thing.
With size 14 feet, Myles jokes about not having to wear skis when he goes out water-skiing. But the myth about big feet and big dicks (at least in his case) seems to be spot on. He's got a thick 8-incher.
He's also one furry guy. Hairy legs; hairy butt. And if it weren't for the trend among straight guys to trim their body hair, he'd have a furry chest and stomach, too.
Myles didn't tell his girlfriend about coming over for the shoot.
"I told her I was doing a survey for work," he says with a laugh.
With his current friend-with-benefits situation, Myles may not need jack off much these days. But he worked up a nice load and pumped a thick pool of jizz onto his stomach.