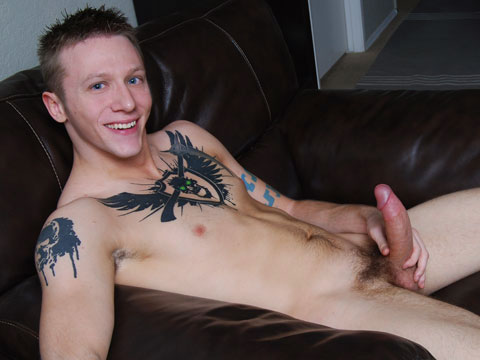 Watch the full scene:
Join Now!
Colby has an interesting background. After going to college, he signed up with the military and was shipped off to Alaska. Most recently, he moved to So Cal and thought he'd test the waters doing porn.
"I have no shame," he admitted with a grin, "so I thought, 'Why not try it out?'"
Colby's shoot had a couple surprises. He had said that he might be nervous and not sure he'd be able to perform. He also told me that his dick was "about average" in size.
The surprises were that neither turned out to be the case.
Not only did he warm up, very quickly, to the camera, but his cock is anything but average. It's a thick 8" and looks even bigger on his lean frame.
When he got the go-ahead for his cumshot, he warned me that he strokes his cock fast. So, writhing on the chair, Colby really got into it and busted a nut that left him dripping in sweat and cum.