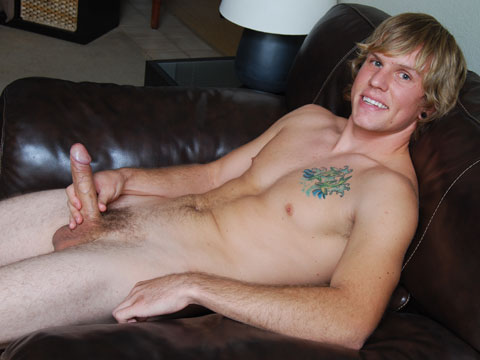 Watch the full scene:
Join Now!
Rich is, almost literally, the guy next door. For a few months, I'd seen him at the local grocery store where he worked as a bagger and came really close to handing him my card. Turned out that I didn't need to. A buddy of his who recently came in for a shoot did the job for me!
Rich is a 22 y/o So Cal guy who spends his free time at the beach, playing drums with his band, and keeping in shape practicing martial arts.
Since this was his first time being in porn, I asked him what he thought about getting naked for the world to see.
"I was a little nervous at first," he admitted, "but the butterflies have subsided."
There was a point about halfway through the shoot when Rich went from "butterflies" to really having fun with it. It's so hot seeing that switch get flicked and the inner porn star gets unleashed.
And talk about unleashed! Rich let loose one of the biggest cumshots I've seen. He shot a load that was all over his chest, stomach, and dripping down the side of the chair!
Tags: Big Cumshot, Hung, Blond, Uncut