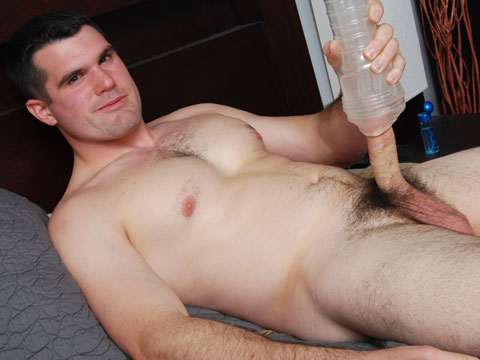 Watch the full scene:
Join Now!
After Vincent's last shoot, he saw the Fleshlight in the other room and did a double-take.
"You ever used one of those?" I asked him.
"I've heard of them," he answered, "but, no, never had the chance to try one out."
It would be a real shame to let the opportunity slip by. Especially since Vincent's 8-inch cock would practically fill the whole thing up. I knew he'd love it.
When Vincent stripped down and lubed up, he was hard in practically no time. He seemed pretty excited about slipping his dick inside. And as soon as he did, I could tell he was a fan.
Vincent pushed it down all the way to his balls then slowly pulled it off, teasing the head of his cock. He jumped up on his knees, bracing the Fleshlight on some pillows, and started thrusting his hips into it like he was in a fucking contest.
Vincent rolled over onto his back, grabbed the Fleshlight with both hands and, with a loud gasp, pulled it off to release a 3-day load all over his hand and pubes.
Tags: Fleshlight, Hung, Muscular