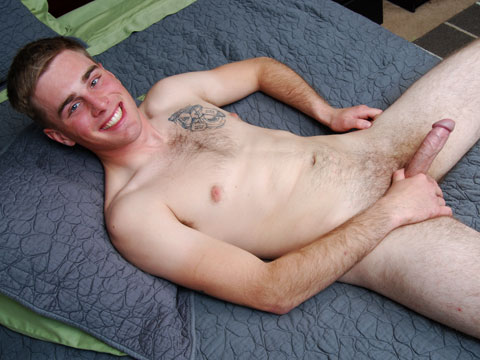 Watch the full scene:
Join Now!
"Hey. Glenn told me to hit you up about doing some videos. I'd really like to work with you."
That was the text message I got one day recently from Evan. He's a 20 y/o Marine who is (obviously) good friends with Glenn. That's one of the things I love about Marines; I never know how many of their buddies will pop out of the woodwork after one comes in for a shoot.
Evan was really excited about coming in and showing his dick to the world. It's something he's thought about doing for a while.
"I've always been a big fan of watching porn," he explained, "so I wanted try it out."
Evan is a fairly hairy guy for as young as he is. His furry ass sure was nice to get a peek at. And it was a great treat to see that the bushy pubes surrounding his 7-inch cock were completely natural.
After spending 2 weeks out doing military field operations he had a hefty load saved up, too, and it spilled out in sticky gobs onto his stomach!