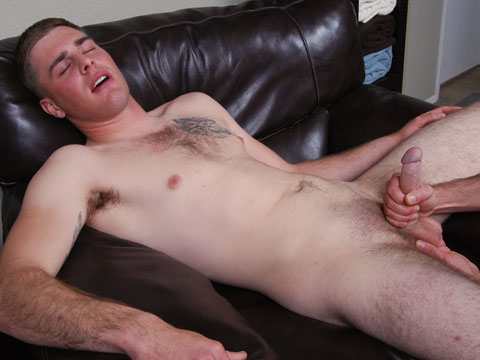 Watch the full scene:
Join Now!
One day I got a text from Evan asking if I had any more work for him.
"How about a handjob?" I asked.
Within an hour he was at the door and ready for action, his cock already tenting in his jeans. It didn't take long before he was naked and rock hard in my hands.
Evan's hairy ass is a little slice of heaven. I made a point to spread it wide open to play with his fuzzy virgin hole.
During the shoot, there was some fairly obvious sexual tension going on. Evan was a little quiet, but his facial expressions (and the fact that he barely glanced at the porn playing in the background) spoke volumes. I decided to take things up a notch.
"I just want to suck your dick. You okay with that?"
Without missing a beat he replied, "Yeah, that's fine."
Evan's eyes rolled back as I licked his balls and sucked on his shaft. I grabbed his cock to finish him off and asked if he liked it fast or slow.
"Just do whatever. It feels really good."
Evan's breathing got heavy as I worked him up to a climax. At the last second he let out a moan and a warm, sticky load oozed onto his stomach.
Tags: Helping Hand, Oral, Blond, Hairy