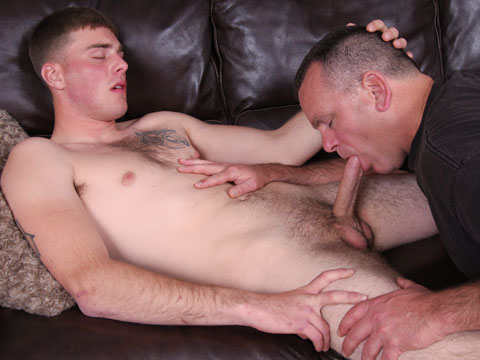 Watch the full scene:
Join Now!
Evan texted recently.
"Hey. Can we do a blowjob video?"
Apparently, the quick dick sucking he got in his Helping Hand video was enough to make him want a little more. And I certainly wasn't going to argue.
Evan had some edgy anticipation when he first showed up. Probably just as excited as he was nervous about taking the next step in his experimentation with another guy. Nervous or not, Evan's dick sprang to attention as soon as my mouth was wrapped around it.
It was Evan's furry ass that I was looking forward to diving into. I lifted his legs to bury my tongue in his crack and Evan's eyes rolled back into his head. Evan had said that he'd never been rimmed before, so I put him up on his knees to get full access to his virgin hole.
If there were any remaining inhibitions, Evan seemed to let them go when he stood up, grabbed the back of my head and started fucking my mouth, plunging his cock down my throat. He was obviously getting close, so I laid him down on the couch to finish him off.
Evan shut his eyes and the intensity on his face was over the top as I worked him closer to cumming. He gasped several times until releasing a load that ran down the side of my hand and onto his stomach.
Knowing Evan's dick is super sensitive after he cums, I went in for a second taste which sent him into full-body twitches. I have a feeling this won't be the last time Evan will be texting for some on-camera experimentation.