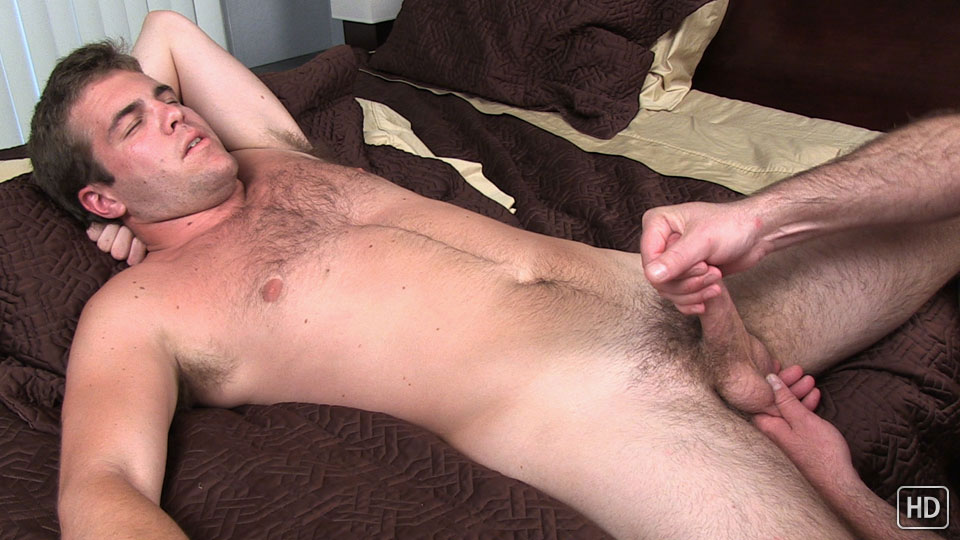 Watch the full scene:
Join Now!
When Wes heard about getting a handjob he was rarin' to go, ready to take the next step in his porn venture.
And I do mean READY! Wes' cock was pitching a tent in his shorts even before the cameras were turned on. I'd swear he must have a permanent hardon.
If there were any doubts, the precum leaking from the tip of his cock when I pulled it out was clearly an indication that Wes was turned on by the idea of getting jerked off. When I rubbed the precum onto the head of his dick, he quivered and let out a gasp.
I flipped Wes over to play with his ass. As I started rubbing his furry crack, his breathing got heavier which I took as a green light to go further. I lubed up a finger, slid it inside his hole and asked if it felt good.
"Yeah," he said, nearly out of breath. "It feels really tight."
I knew from Wes' throbbing cock that it wasn't going to take much to make him cum. I asked him if he was ready.
"I can keep going, but if you're ready for a cumshot just do whatever you want."
And with a few more strokes, just a few seconds later a stream of jizz was running down my hand and splattered onto Wes' stomach.
To top it all off, I stuck a finger in Wes' mouth which he licked off a glob of cum to get a taste.
Tags: Helping Hand, Hairy