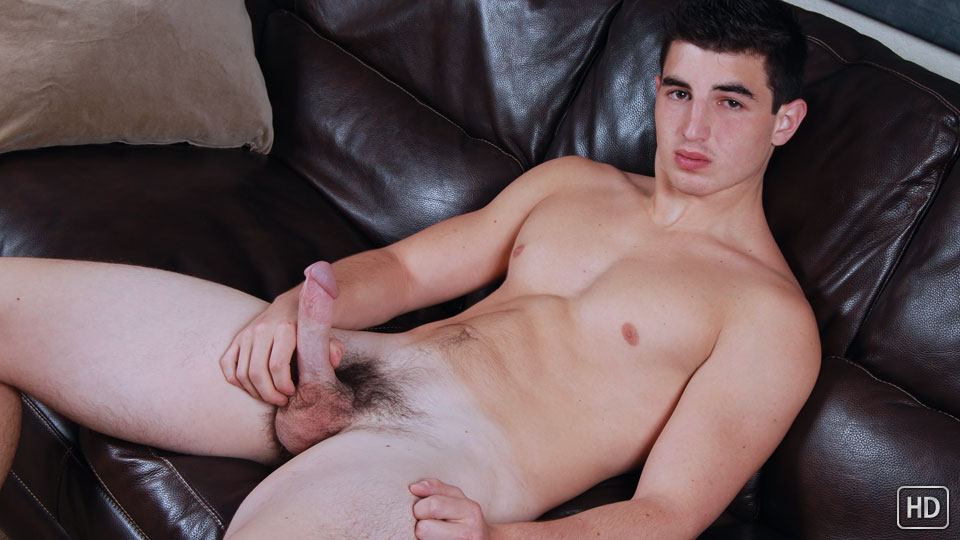 Watch the full scene:
Join Now!
Chance is a 19 y/o straight guy who just finished up his freshman year in college and came out to San Diego to blow off some steam. A mutual friend suggested he get in touch while out here and, boy, am I glad he did!
When he's not studying, Chance likes spending time at the gym and playing a few different sports.
"My favorites are a toss-up between soccer and football," he told me, "but probably more football."
Chance has full lips and dark brown bedroom eyes which he said girls notice about him. They were definitely two of the things that caught my attention.
He admitted that knowing people would be watching him was "kind of exciting." Sure enough, once his pants hit the floor, Chance's dick was already standing at half-mast.
He has thick cock surrounded by a patch of dark, almost black pubes. It was refreshing to see a young guy who hadn't shaved them off.
It was also hot that Chance didn't seem to mind spreading his ass show it off. His body hair extended down there, too, so when he bent over he revealed a furry crack between his muscly cheeks.
Chance said he normally jacks off at least once a day, but had saved up for a few days. It seemed to have paid off for both him and us! Chance's eyes squeezed shut and he moaned as he worked himself up to an intense cumshot that covered his stomach and dripped down his side.
Tags: Muscular