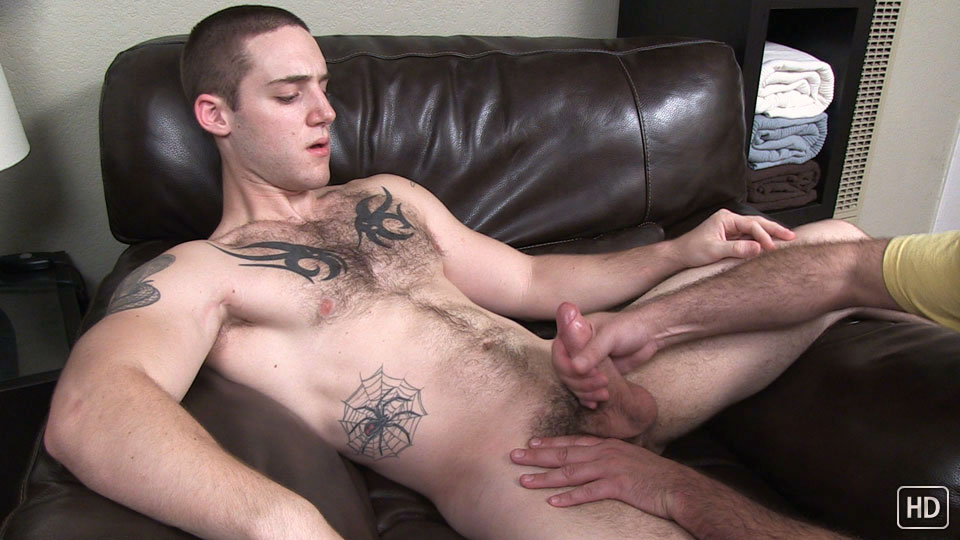 Watch the full scene:
Join Now!
Noah is a 20 y/o str8 guy who was pretty enthusiastic about making his porn debut. "Nervous and excited," as he put it. He's been thinking about it for a while, admitting to being a big porn fan himself. Probably needless to say, I was pretty enthusiastic about getting him in front of the cameras, too!
Even at 5' 5" Noah has quite a presence. Both in personality and looks. He has the compact build of a wrestler, and when he took his shirt off I nearly fell over seeing his muscular chest blanketed with hair that followed all the way down his stomach.
Noah normally jacks off 2-3 times a day. When he said that he had held off for 2 days before his shoot I knew we were going to be in for a treat. Not only was he primed and ready to go from just about the moment his pants came off, the pent up tension gave me the feeling about halfway through that he might be up for some help.
I reached out and gave him a grab. His cock immediately swelled in my hand. He let out a little chuckle, not really sure how to react. Obviously turned on, but never having a guy touch him before.
When Noah bent over to show off his ass, I couldn't resist rubbing on his furry hole. If you listen carefully, you'll hear his breathing get deeper as my hand moved from his ass down to stroking his throbbing shaft.
Time to flip Noah and finish this horny str8 boy off! And with 2 days worth of cum backed up in his balls, you know it was gonna be a good one. Noah began moaning as dollops of jizz landed on his hairy stomach and ran down my hand.
Tags: Helping Hand, Hairy, Muscular