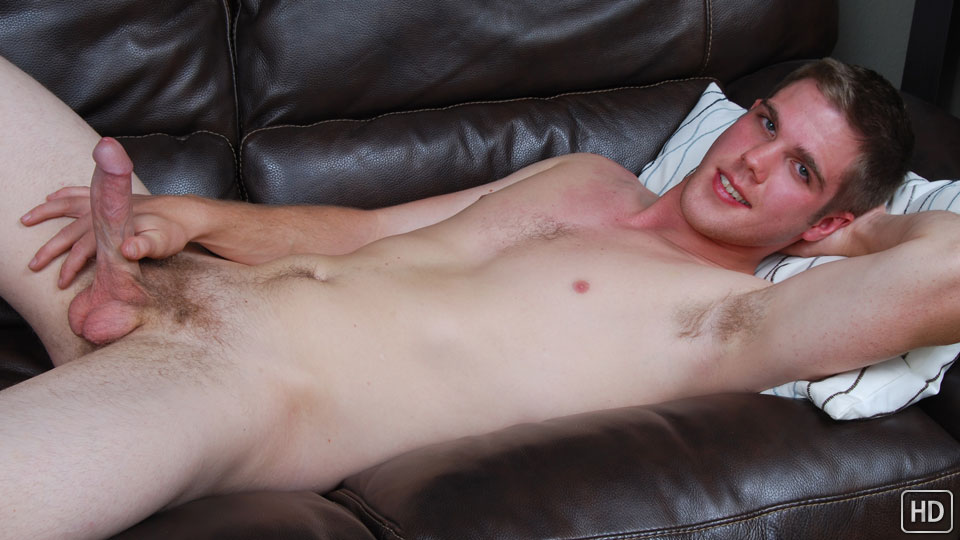 Watch the full scene:
Join Now!
Parker is a 22 y/o recent transplant to San Diego, having been moved here from the south by the military. He'd been thinking about giving porn a try for a while, so when I asked him about doing a shoot, the very next day he was anxiously ready to shed his clothes on camera.
Parker has quite the libido. He normally jerks off 3 or 4 times a day. He even did it on duty once!
"I just closed the window a little so nobody could see," he explained, "and did my thing."
Parker was so excited about his porn debut that as soon as his pants came off he was already rock hard. Within minutes, a the tip of his cock was glistening with precum.
Parker's jack off style is one I haven't seen before, sometimes using just one finger to massage the underside of his shaft. It was hot to watch, and clearly hot for him as he seemed to get even harder when the camera came in for close-ups. He wasn't shy about having fun with it and put on a really steamy show.
And he was definitely not a shy one when it came to bend over and spread his ass cheeks. Always a big plus in my book!
When it came time for his cumshot, Parker's simple one-finger jerking technique picked up speed. As he worked himself to the edge, he shut his eyes and pushed his head back into the pillow. Parker started moaning and gasped, "Oh, I'm gettin' close." Then with one final moan, Parker unloaded dabs of white jizz onto his pubes.