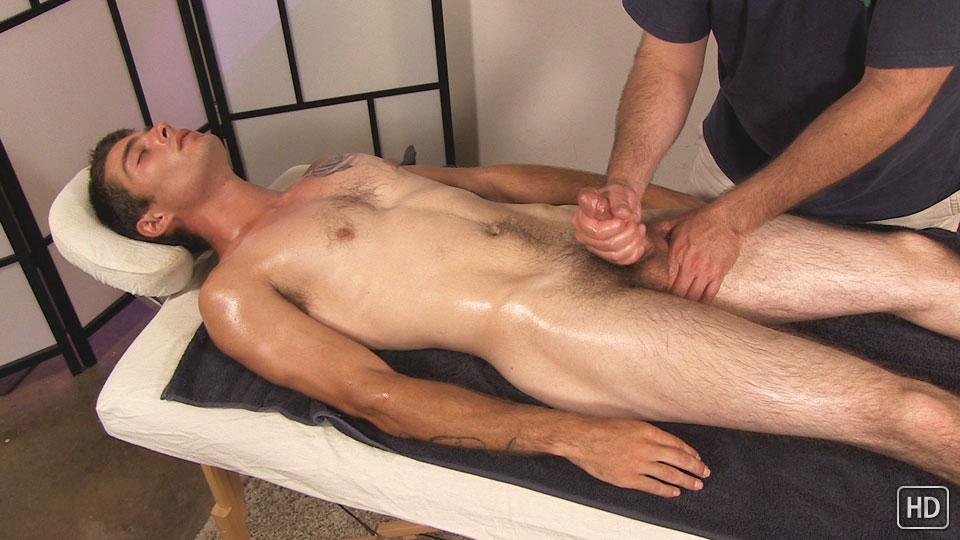 Watch the full scene:
Join Now!
After his solo shoot, Niles got in touch to see what else he could do to make some cash. When I told him about the massage shoot, he said he'd give it some thought. When no answer came after a couple weeks, I figured it was a no-go. But apparently when rent was due, it suddenly didn't seem like all that bad of a gig.
Niles had never gotten "regular" massage, let alone a happy-ending one. And taking the leap to get his first from a guy didn't seem to phase him too much (or else he was just playing it cool pretty convincingly). When I asked how he was feeling about everything, he just shrugged and said with a smile, "It is what it is."
It probably didn't hurt that he'd been busy and hadn't had much time to rub one out for a couple days. At least that's what he'd told me: "a couple days." From last time, I knew Niles' cock was one of those perma-hard ones. But between the throbbing rod between his legs and the pre-cum that kept leaking out he seemed extra horned up.
About halfway through the shoot, I went to change the camera angles and suddenly his dick started pulsating wildly. Niles looked down and sheepishly mumbled something about a little pre-cum. I glanced over and see a pool of "pre-cum" on his stomach that was streaming from his cock. He admitted that the "couple days" he'd told me earlier was more like a week of pent-up sexual tension.
Probably needless to say, I took the rest of his rub-down carefully so he wouldn't blow too soon. And it didn't take much to get his up to the edge when the time came. Niles didn't make much noise, but a few deep breaths a sudden body twitch let me know he was close. Out shot five big squirts up his chest with a handful of oozing dabs that soaked my hand and his pubes.
Tags: Massage