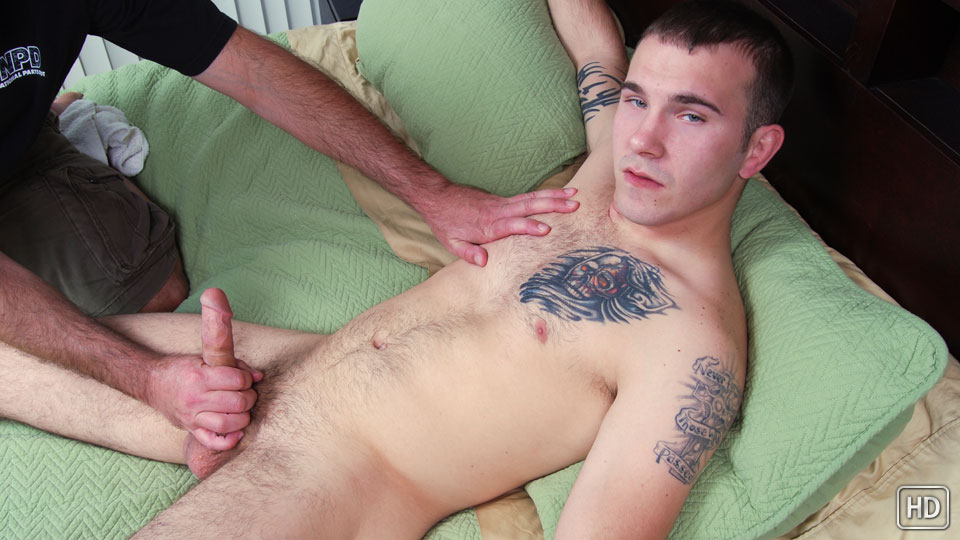 Watch the full scene:
Join Now!
Cody must have enjoyed his handjob from last time; he called up asking about doing another one. Of course there was no argument coming from me. And I had a couple ideas of my own this time around!
When the cameras starting rolling, Cody gave a nervous laugh and suddenly turned serious when I reached under his shirt to rub his hairy chest. The reality of what was about to happen may have hit him. Once his pants were off and his dick was getting hard, though, he started to relax and enjoy the ride.
He looked slightly surprised when I pushed his legs apart and ran my fingers up his ass crack. I had Cody get on all fours so I could have better access to his furry hole. His cock got even harder so he seemed to like the ass-play.
When he turned back over, I pulled out a Fleshlight and teased the head of his shaft with it. Cody's eyes widened when I slid it all the way down. I started stroking him with the Fleshlight, then surprised him once more when I pulled it off to use my mouth instead, going back and forth between sucking him and jerking him off.
I asked Cody if he wanted me to use my mouth to finish him off. The way he responded made me think he already had thought of that before I even asked the question. As I started blowing him faster, Cody's eyes squeezed shut with building intensity. He finally let out a moan saying he was getting close and unleashed a load that ran down my hand and onto his balls.
Tags: Helping Hand, Oral, Hairy, Fleshlight