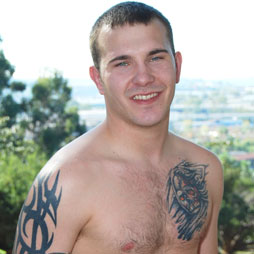 Age: 24
Height: 5' 6"
Weight: 150
Shoe: 10 1/2
Cock: 6" x 5"
Orientation: Straight
I wondered about cutting a finder's fee check to Cody's fiancé. Surely, at least a thank you letter? Either way, I'm glad she had the idea of getting Cody on board for some porn work.
Cody was really concerned about making a good first impression. And he certainly did! Not only was he a dream to work with (in many ways), but he was inquisitive about all the stuff that happens behind the scenes, from advertising, to editing the videos. Always a nice touch when a guy takes an interest beyond being in front of the cameras.
I'm not sure if Cody is ready to go further in his porn career (if even his fiancé will let him after his solo went beyond expected), but I'm hoping to see him again, very soon!
Tags: Hairy
Videos
Photos