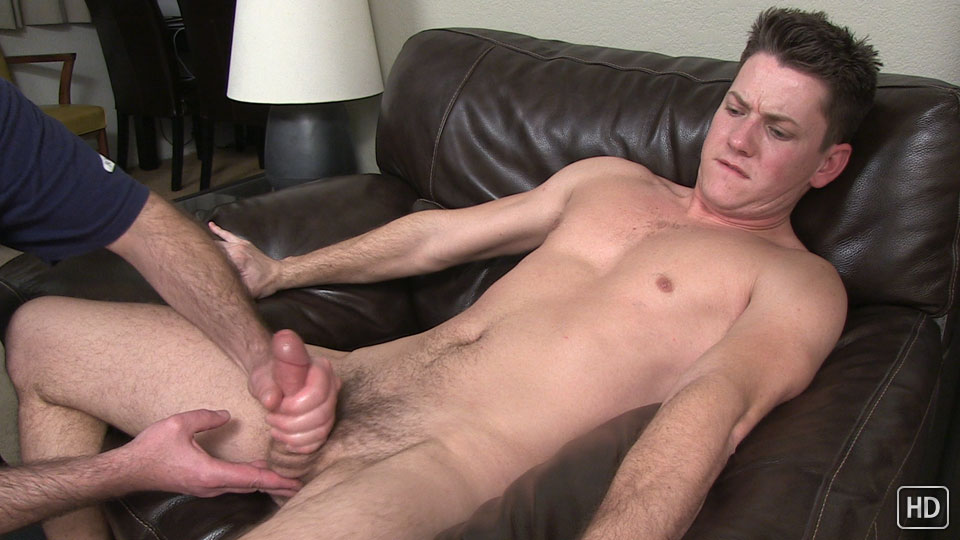 Watch the full scene:
Join Now!
Aden is a 22 y/o college student who was in San Diego for winter break. He had mentioned to a friend that he'd been thinking about doing porn, so his buddy suggested getting in touch while he was in town. A good call, in my opinion!
The excitement in Aden's voice when we met was brimming. It was clear he couldn't wait to get naked in front of the camera, and it certainly showed once he did. As Aden pulled off his underwear, out popped his raging hard-on.
As he lubed up and got to work, I could feel the sexual tension growing in the room. Aden's cock seemed to get even harder when I moved in for the close-ups. Aden's inner exhibitionist was letting loose.
I asked Aden if he'd ever measured his cock and, to my surprise, he said he hadn't. Conveniently, I had the measuring tape handy (wink). When I grabbed his shaft to measure it (it's 7" long and a thick 6" in girth, btw), Aden's jaw dropped as I continued feeling him up. I asked if he wanted me to finish him off and Aden quietly replied, "Sure."
Aden looked like he was going to pass out as I jerked him faster and faster, his eyes squeezed shut and his head pressed back into the chair. Finally, he opened his eyes and watched himself as massive white globs of cum exploded from his cock.
Tags: Helping Hand, Big Cumshot