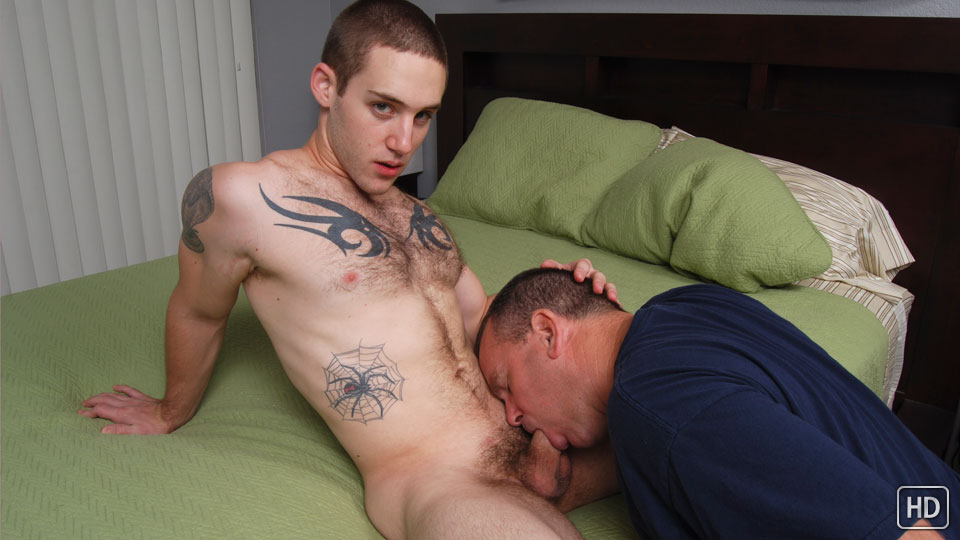 Watch the full scene:
Join Now!
I'm not sure who was more excited about this shoot: me or Noah. After he got a little taste of how us guys suck cock during his massage scene, Noah was quickly on board for the full dick-sucking treatment. And, needless to say, I was ready to oblige in about 2 seconds flat.
Noah was fully charged by the time the cameras started rolling and, when I pulled down his shorts, out popped his raging hardon. The moment my mouth was wrapped around it, his head rolled back as if it was the blowjob he'd been waiting for all year!
You all know I'm an ass lover, right? Well, Noah's firm, muscular butt was all *I* had been waiting for. And, clearly, Noah was liking the attention as I pushed back his legs and stuck my tongue between his cheeks.
"... feels really good," he barely was able to say between gasping breaths.
After getting Noah on all fours to give his ass a more thorough rimming, he stood up and started taking control of the situation. Noah grabbed the back of my head and, at first, slowly thrusted his hips toward my mouth, then progressed into full face-fuck mode. From the look on Noah's face, it was evident that he'd never gotten sucked like this before.
Noah lay back on the bed, grabbed my head again and started working toward his grand finale. The intensity was building like crazy! Noah made one final gasp, letting me know he was about to cum, and shot a stream of thick jizz that landed almost off the side of the bed.