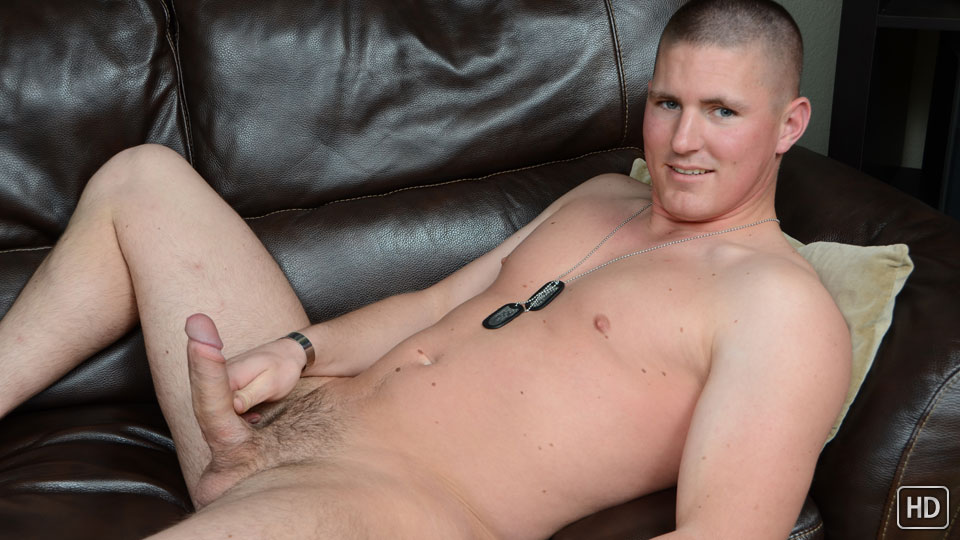 Watch the full scene:
Join Now!
Eli is sort of a quiet type. He's 24 y/o and, in case the dog tags and haircut don't give it away, he's one of our proud servicemen. Eli was actually out recruiting for the military when I spotted him and decided to do a little recruiting of my own and handed him a card. Eli's eyes suddenly lit up when he realized what it was for.
Apparently, being in porn was something he'd thought about for a while. Even his stripper girlfriends gave him a thumbs up when they heard he was going to give it a shot.
"So, are you uncut?" I asked him when he took his pants off.
Eli laughed, "You're the second person to ask me that this week." He has what I've heard called "French cut," with foreskin that he can pull down about halfway over the head of his dick.
He seemed like one of those guys who was nervous-but-excited about shedding his clothes for the camera. Eli kept his eyes on the DVD playing in the background a bit, but at the same time played to the camera, especially for the close ups when his cock was the star in front of the lens.
Eli admitted that he likes to jerk off "pretty much every day," but had saved up for his shoot. He got into it, all but forgetting about the DVD as he worked himself up to cumming. And when he did, the thick, white globs that landed on his stomach, along with Eli's satisfied expression, looked like a load that he'd been waiting to bust for a long time.