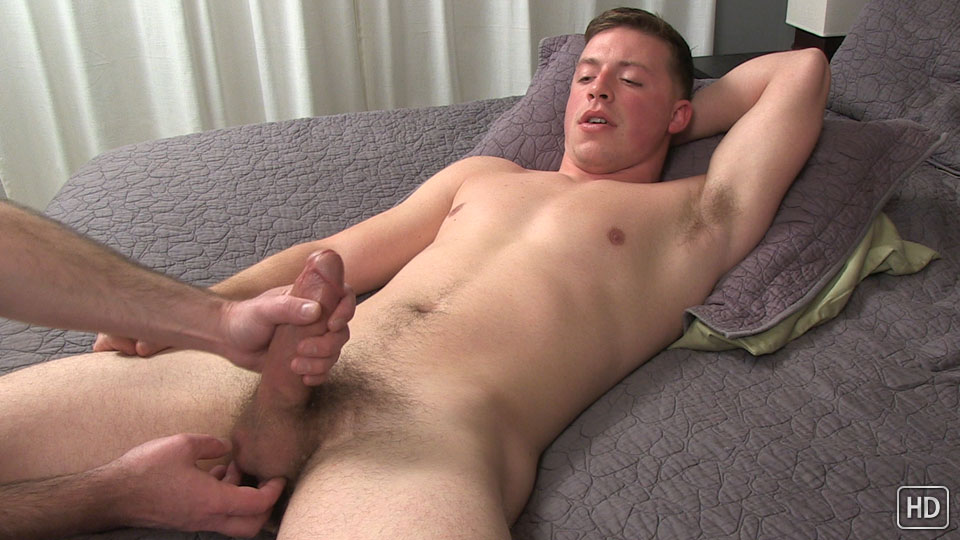 Watch the full scene:
Join Now!
Anyone for a thick slab of military meat? Reed is a 22 y/o str8 Marine who has heard from several of his girlfriends that he should do porn. I couldn't agree more! He's a cornfed jock with a helluva nice bod and a thick cock that made my jaw drop when he pulled it out.
And Reed isn't shy about showing it off, either. The idea of doing it on camera seemed to turn him on even more which not only made for a hot video, but created an undeniable sexual tension while we were filming.
After letting Reed give us a look at every square inch of his body, I took a chance and pulled out the ol' measuring tape. Ya' know... just to make sure I got an accurate measurement on how big his cock was (wink). The verdict? Just shy of 8 inches long and a thick 6 inches around.
Reed didn't flinch much at me touching his cock, so I gave it a few more rubs. "Whoa," he said at first, looking a little startled.
I rolled the dice. "You wanna make some extra money?" I asked him.
After some negotiating, Reed decided he'd go for the cash and get his first handjob from a dude. I pulled out the lube and wrapped my hand around his cock. Seemed like I could barely get my fingers all the way around!
"Feels pretty good, actually," he said with surprise in his voice.
As I started stroking Reed faster, he was clearly getting into it, staring straight down at his shaft being worked on. I reached in with my other hand, giving him a double-fisted jerking. That sent Reed over the edge. Seconds later, streams and streams of cum shot clear over his head, covering his face in a sticky, dripping mess.
Tags: Helping Hand, Big Cumshot, Hung, Muscular