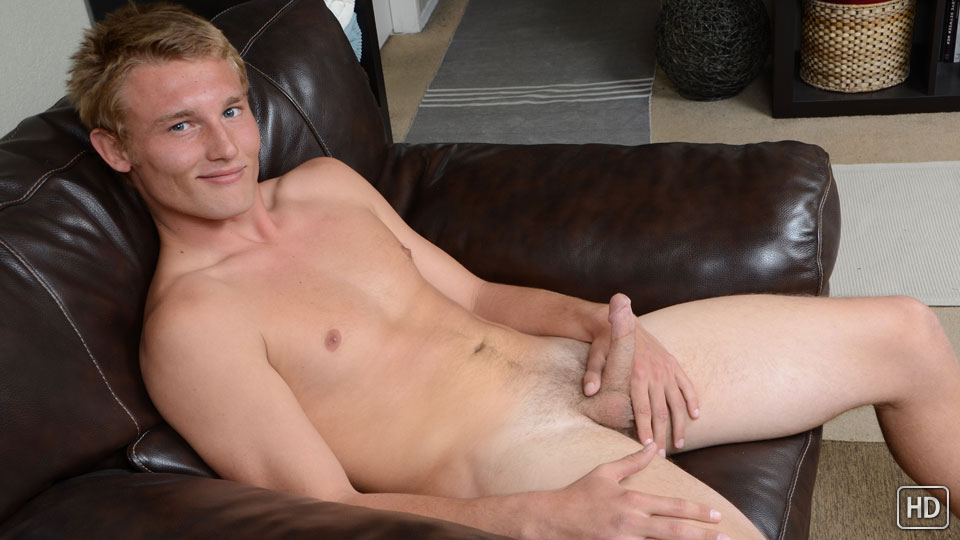 Watch the full scene:
Join Now!
I was down by the beach recently when blond-haired, blue-eyed Nate caught my eye. He was putting his surfboard into the back of his car, still dripping in seawater and, through his skin tight wetsuit, I could tell he had a tight bod and decided to give him the "How'd-ya-like-to-do-porn?" line.
His bright eyes lit up and said he'd actually been thinking about it-- ever since he turned 18 a couple months ago! "I'm fresh meat," he said with a laugh.
Nate was so excited about being asked to do porn that he ended up telling a handful of his buddies about it, too.
Nate identifies as "mostly straight," but admitted that he's a little curious about guys. The closest he's gotten to tapping into his curiosity, though, was once when he and a guy from his wrestling team tag-teamed a girl. I think there might be some room here to explore that curious side a little more. (wink)
For his first time in front of the camera, Nate was definitely having fun and getting into it. He mentioned later that the idea of showing off was exciting to him, and it was obvious. I was especially happy to see him bend over and show off his milky white ass.
Nate said he normally jerks off daily, but how many times during the day depends. Even though he said he'd hold off before his shoot, it turned out to be a little white lie; he got a bit excited and had jerked off that morning. Not that it mattered much. By the end, Nate's chest was completely drenched in cum!
Tags: Big Cumshot, Blond