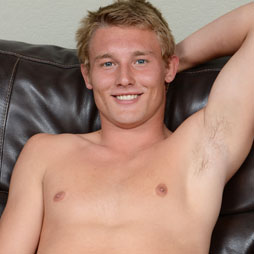 Age: 18
Height: 6' 1"
Weight: 185
Shoe: 10
Cock: 6" x 5"
Orientation: Bi-curious
Nate describes himself as "fresh meat." Having just turned 18, I'd say he's just about ripe for the picking!
It's actually pretty rare for me to meet a guy who is *from* San Diego, but Nate is one of the few native dudes around town. And he certainly fits the stereotype: blond hair, blue-eyed surfer who spends almost every waking hour at the beach.
Nate admits to being curious about experimenting with guys, so he seems to be a great match here in Spunk Worthy-ville. I'm sure we'll be seeing him again soon!
Tags: Blond
Videos
Photos