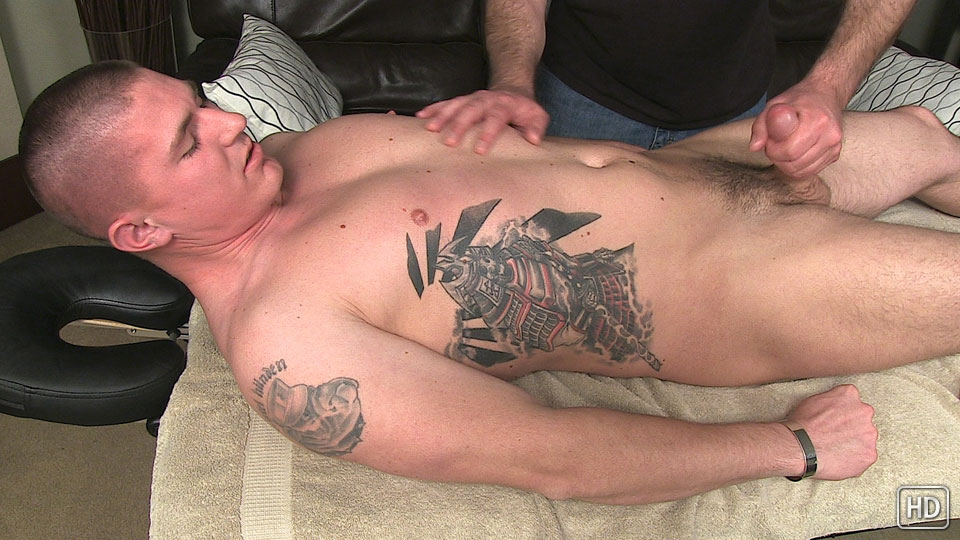 Watch the full scene:
Join Now!
This is Eli's third shoot, and this time he agreed to get massaged and jerked off by a guy for the first time. Not that Eli is a stranger to the release of a happy ending. When the 6 foot Marine was stationed in Japan, he got his monster cock jerked off by Japanese women, an experience he described as a "nice way to experience the culture." I'd say.
I started Eli off slow, getting him comfortable by massaging his shoulders, his back, his legs, and his feet (size 11. Maybe it's true what they say…) Once I could feel him relax a little, I spread his legs to get a peek at his beefy butt, with just the right amount of hair on it.
Eli turned around to reveal his stiffening cock and the tattoo framing the right side of his torso. I lubed up that big piece of meat, stroking slowly at first. That's when he finally seemed to relax completely. He closed his eyes, tilted his head back on the massage table, and gave in to the sensation of a man's hand jacking his dick for the first time.
I picked up the speed, stroking his cock with one hand, while keeping my other hand on his smooth, powerful chest. I could feel the load rising up from Eli's balls. "I'm getting close," he said. "Here it comes."
He shot one of the thickest, whitest loads I've ever seen all over his stomach. The smile on his face afterwards said it all. I don't think Eli's going to Japan for his next happy ending.