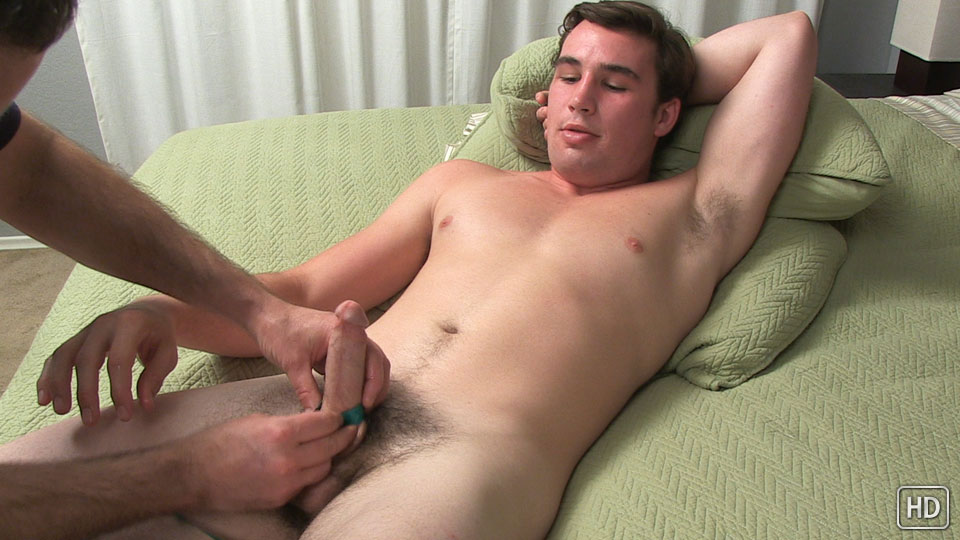 Watch the full scene:
Join Now!
Geoff came to us through Nate, who used to wrestle with him on their high school team. Just eighteen years old, Geoff still has the body of a wrestler: 6 foot frame with 173 pounds of meat. All of this is only accentuated by his full lips and piercing bedroom eyes. Not to mention his smooth chest, happy trail, and thick hairy bush.
Geoff usually jerks off two or three times a day, but he held back to save a big load for us. He was very nervous before the cameras started rolling, but once I began to film, Geoff proved himself a master show-off. He started stroking his tool slowly, working himself up to a raging hard-on. He even got on his knees and bent over as he beat his meat, giving us a peek of his meaty, hairy hole.
Geoff had never measured his cock, so once he got good and hard, I busted out the tape measure to get the dimensions of his shaft (you'll have to watch to get the exact measurements). After having my hand that close to his dick, I couldn't resist offering him a little extra cash to let me beat it for him. I suggested he let me finish him off for some more dough. Lucky for me, he was down for it. So I lubed up his cock for his first experience with man-on-man action, and he rewarded me by shooting a thick stream of jizz right into my hand.
Tags: Helping Hand