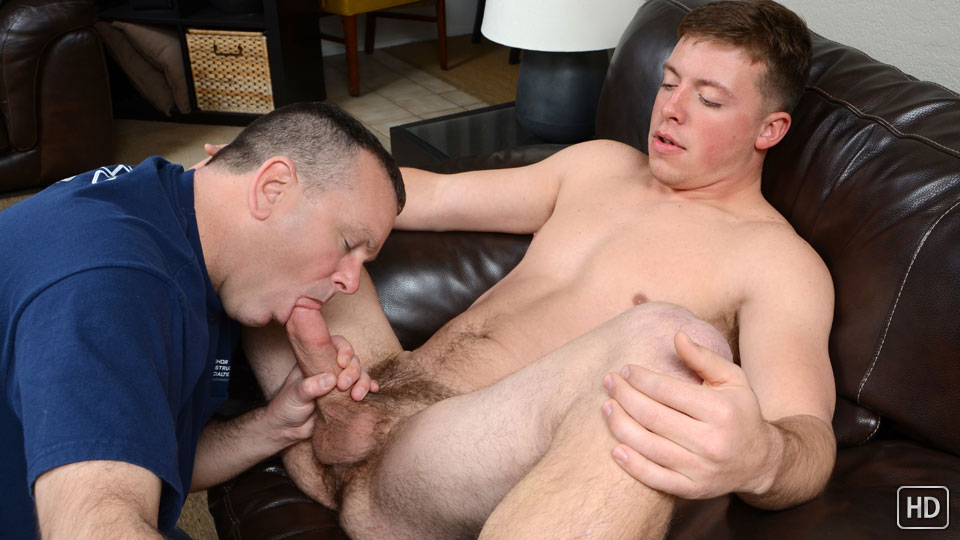 Watch the full scene:
Join Now!
It took a lot of cash to convince Reed to get his first blow job from another dude, but once he agreed, he was already hard as a rock when the cameras started rolling. They say a hard cock doesn't lie. I'll let you decide on this one.
I sat him down on the couch and reached into his gym shorts, amazed at the solid 8-by-6-inch monster inside. Once I got my lips around his impressive girth, I had to start slowly, working my way down. Reed put his hands on my head to hold me in place, then proceeded to fuck my mouth with impunity.
"Like that big cock?" he asked in his deep drawl.
Reed knew just what to do to drive me wild, slapping my mouth with his colossal meat. He pulled it in and out of my mouth, teasing me with it, turning me into his cocksucking bitch. I gagged like crazy on the oversize beef, tears coming to my eyes. The deeper his cock slid down my throat, the more Reed enjoyed it, pushing my head down to make me gag even more.
I took a break from the sucking by throwing his legs up in the air so I could tongue and finger his hairy hole. Then turned him around to reveal even more of that perfect ass.
Once it was time to shoot some ropes, Reed sat back down on the couch so I could milk his cock with my mouth. As it turned out, his load was as big as his dick, shooting himself in the face and into his hair.
And it tasted pretty good, too.
Tags: Muscular, Hung, Big Cumshot, Oral