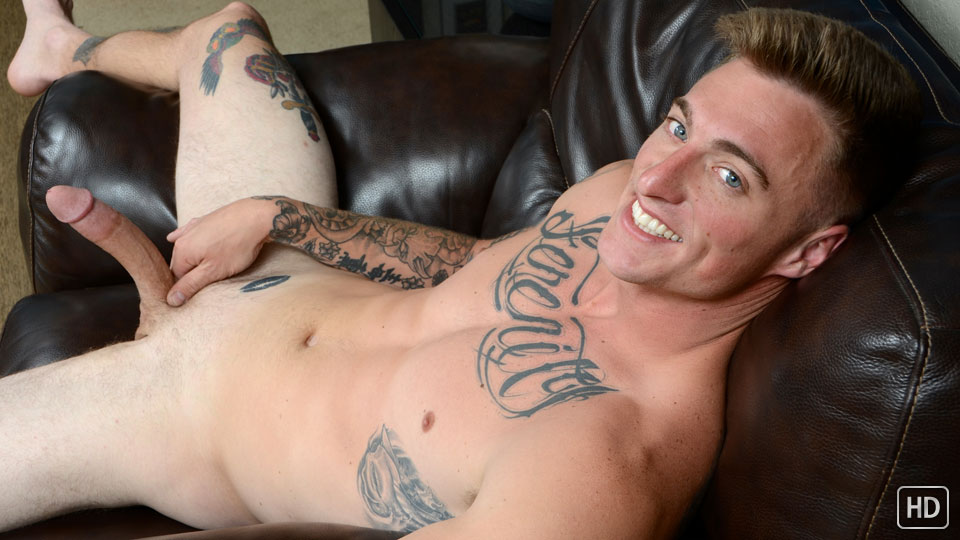 Watch the full scene:
Join Now!
Dane is 25 y/o, freshly out the Marines, and thought he'd try his hand making some cash doing porn. At 6' 1", he's a tall, lean guy with a bit of a wild side.
He admitted that he jacks off "pretty constantly" and that he likes to show off. Once at a party, some friends who had heard he had a big dick wanted to see it. So, he whipped it out and jerked off in front of them!
"I like the attention," he said with a laugh.
With an 8-and-a-half inch cock and a pair of low hanging balls like his, I can understand why he's not shy about showing them off to the world.
As Dane started getting hard, pre-cum immediately was leaking out of his cock. He used his finger to play with it, making long, glistening strands with it.
Dane stood up and wrapped both hands around his shaft to fuck his fists. He then flipped around, spreading his ass cheeks to give a clear shot of his tight hole.
As the river of pre-cum kept flowing out, Dane worked himself up to an incredible finish. Shot after shot of thick cum flew all the way up to his shoulder and off the side of the chair!
Tags: Big Cumshot, Hung, Blond