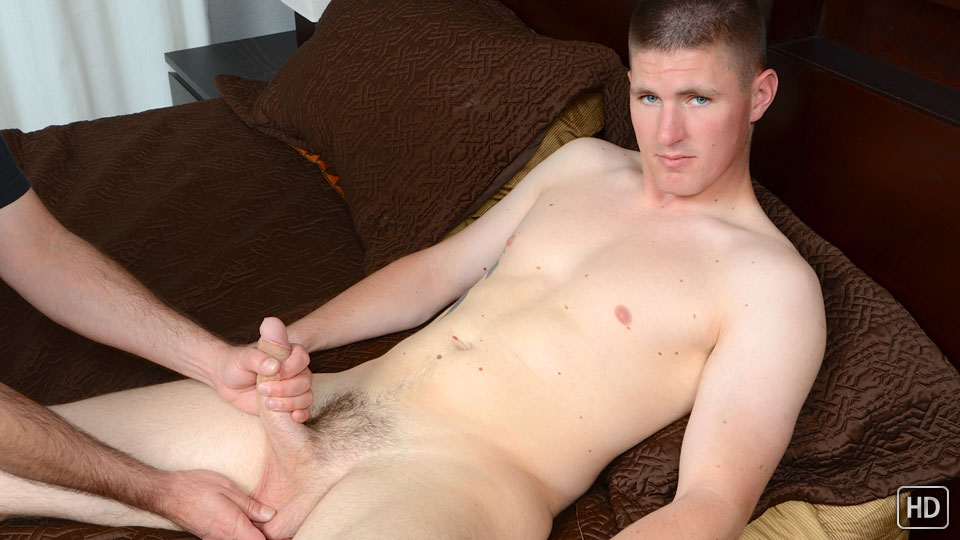 Watch the full scene:
Join Now!
Eli seemed pretty nervous about getting stroked off by another dude. I've massaged the 6-foot, 190-pound stud before, but this time, he couldn't close his eyes and picture some hot chick. He was face to face with another man, and he seemed both nervous and turned on as I reached into his boxer briefs and pulled out his stiffening monster uncut cock.
He stared quietly as my hand ran up and down his hard shaft, as if entranced by the sight of it. His cock grew so big I had to use both hands to stroke it, sometimes moving the second hand onto his massive low-hangers or his strong, smooth chest.
"You ever use one of these?" I asked as I pulled out a Fleshjack.
"Something similar," he said with a shy smile.
The Fleshjack gobbled up his meat, his colossal cock disappearing into it. I decided to lube up his dick so he could fuck it like a pussy. He got up on his knees and starting sliding his dick in and out of the wet hole, fucking it with abandon.
When we took a break to measure his cock, Eli smiled proudly. "Five and a half inches around," he gushed when I measured its girth. "That is pretty damn thick."
Finally, I had him sit on the edge of the bed and stroked him faster, edging his thick cock for him as his breaths grew deeper and deeper. He made me work for his load, lasting much longer than I thought he would. "Here it comes," he finally announced as his cock erupted a hot load of jizz, cum dripping all over my hand. And luckily his load was as thick as his cock.
Tags: Helping Hand, Uncut, Hung, Fleshlight