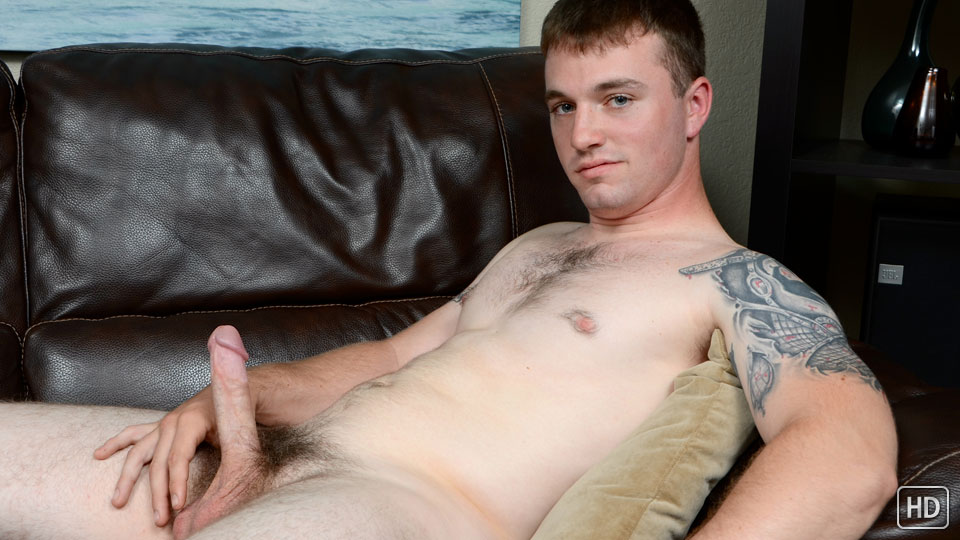 Watch the full scene:
Join Now!
Charlie is a 19 y/o Sailor I met the day before he was going on a 7-month-long deployment. When I approached him about doing porn he was clearly excited about it, but there was no time for shoot before he left, so I figured that'd be the last I'd ever see him. Well, seven months later, guess who got in touch.
Standing at 5' 7", the years playing football and wrestling in high school gave Charlie some thickness, especially in his legs, and an ass that girls, and even some of his male co-workers, have commented on.
Charlie could barely contain himself before coming over. He told a handful of friends about doing his first porn shoot (all of them giving him a big thumbs up). When he got here and started undoing his zipper for the camera, he was already getting hard from the excitement.
He's also a bit of a jack-off junkie, sometimes jerking off a "multitude of times" in a day. And, in the anticipation of getting naked on camera, ended up stroking out a load the night before the shoot. Normally, that might not be a great idea. But in Charlie's case, it didn't seem to make much of a difference. His dick was leaking pre-cum the whole time, and there was a fountain of cum that erupted from his cock that flew up to his neck: 10 squirts left his chest and stomach dripping.
Tags: Big Cumshot