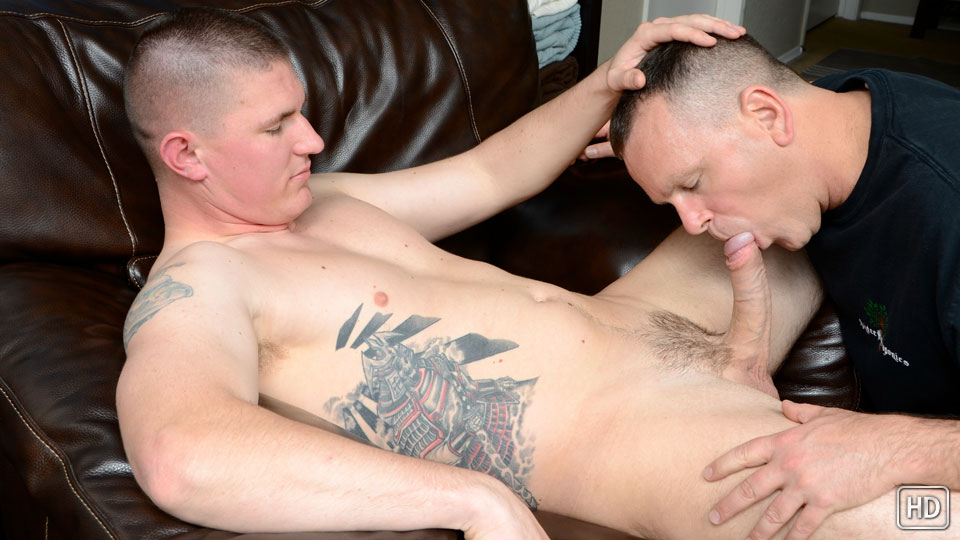 Watch the full scene:
Join Now!
If you've seen Eli's previous scenes, you know that his cock is colossal, so you can't blame me for wanting to get my lips around it. Truth be told, it took a lot of cash to motivate this str8 Marine to let me blow him. It's a pretty big leap from being massaged by another dude to having his mouth on your dick, but lucky for us, I had enough to convince Eli to take that leap.
Eli had jerked off the day before our shoot, but that didn't stop his cock from being rock hard before I even unzipped his jeans. I took his clothes off, revealing his smooth chest, hairy legs, and neatly trimmed pubes, then went right to work.
Eli is obviously proud of his cock. He smiled ear-to-ear when I took a break from swallowing his shaft to tell him how big it was. Taking breaks also gave me a chance to lick his low-hanging balls and stroke his cock with my hand. When I asked him if girls could swallow his monstrous pole, he just smiled devilishly again.
When I reached by hand under his balls and touched his hole, he leaned his head back. I saw my opportunity and pounced on it.
"Have you had your ass licked before?" I asked.
He gave me a nod and a quick, "Yeah."
I seized the moment and had him flip his 6-foot frame over. I spread his beefy cheeks apart to reveal his beautiful ass, teasing it with my tongue and my fingers. I knew I would be sucking him off, but eating his tasty hole was a bonus prize.
For the grand finale, I sat Eli back down on the chair, using my hand and my mouth to earn the load from his balls. And what a fucking load of jizz it turned out to be: thick and creamy. I couldn't resist tasting it, a perfect dessert to wash down a delicious main course.