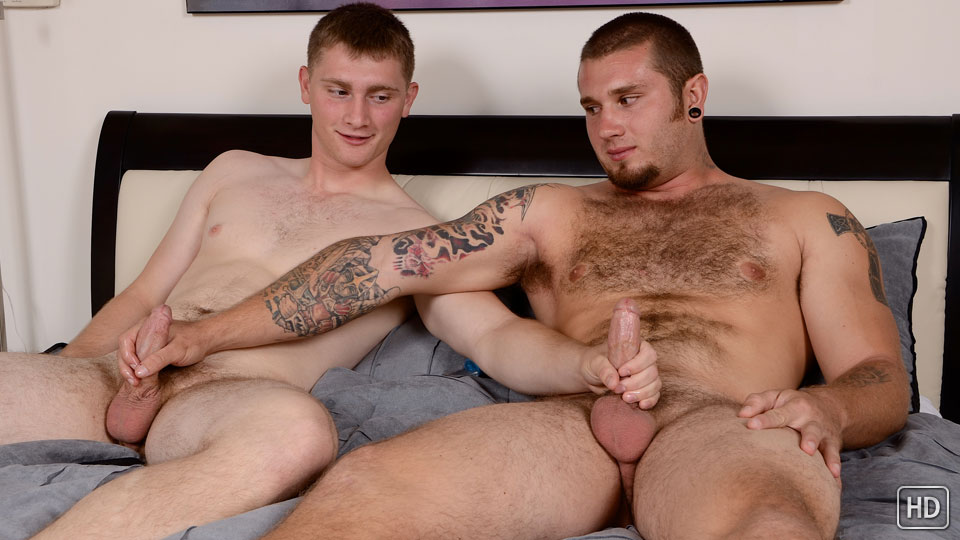 Watch the full scene:
Join Now!
Being workout buddies, Dakota and Preston's time together usually involves bench presses and pull-ups. Thankfully, with a little cash incentive, these two friends agreed to try a different kind of workout.
This pairing has a little something for everyone. If you like your guys big and hairy, Preston is your man. If you prefer them lean and clean-cut, Dakota will do the trick. Either way, if you want to see real life buddies experimenting, then get ready for one of my favorite scenes yet as these two studs get naked, lube up their cocks, and take their friendship to a whole new level.
As they stripped and started jerking off, Dakota and Preston nervously looked forward, keeping their gazes away from each other.
"Is it a little weird jerking off next to your buddy?" I asked.
"A little bit," Preston said. "I'm getting over it."
I'd say they both got over it, because soon they each started checking the other out. They covertly shifted their gaze over to their naked buddy, each taking a peek at the other's hard cock.
After they had flipped over, giving us a look at their perfect butts, I took my chance at pushing things even further and asked, "So you guys wanna try something different?"
"Like what?" Dakota asked.
"I'll give you some extra money if you guys jerk each other off for a few minutes." After some hesitation, they agreed.
"That's what friends are for," Preston joked as he stroked his buddy's cock. And he must have done a good job because Dakota was ready to cum in a matter of seconds, dumping a nice creamy load onto Preston's hand.
Preston then went about stroking himself off to completion, but just as he was about to cum, he called Dakota in to finish him off. That's what friends are for, indeed. Think these guys will add this exercise to their regular workout routine?
Tags: Duo j/o, Hairy, Muscular, Stocky/Husky