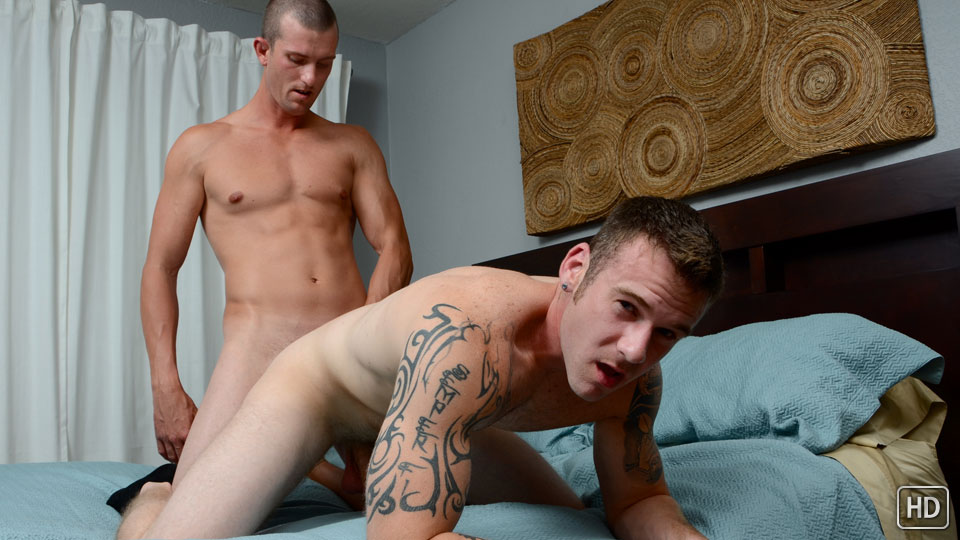 Watch the full scene:
Join Now!
It took some convincing to get Tommy to agree to fuck a dude for the first time. He was so resistant to it that I almost gave up, but then I finally hit upon the right price and he agreed. Trust me, the stack of cash was well worth it. If you've already seen Tommy, you probably know the reason why I wanted him to top Scottie: his monster cock. Seven inches long. Six inches around. A beer can cock if there ever was one, and a perfect size for Scottie's tight hole, if you ask me.
Tommy's dick is so thick that Scottie seemed a little worried about taking it, but he promised he would do his best, and lucky for us, his best was damn good! Scottie got right to work blowing Tommy, using his oral skills to get Tommy nice and hard. I was nervous Scottie would run away once he felt how thick Tommy got, but he stayed put.
Once he was done sucking, Scottie lubed up Tommy's dense pole and started the task of sitting on it. He struggled a little in the beginning, but soon he managed to swallow the whole thing into his hole, stroking himself in the process.
Then Scottie got on his back and the fun really began, as Tommy worked his shaft into Scottie's tight ass and recklessly pounded away. Scottie took it like a champ, grunting and moaning his way through it.
The intensity in Tommy's fucking grew when they moved into doggie. Scottie clutched onto a pillow for dear life as Tommy rammed himself in and out of him. Scottie even bit the pillow at one point. Guess it was getting to be a bit much for him.
Just when it looked like Scottie had had enough, Tommy flipped him around and shot a thick load of jizz all over Scottie's stomach. Moments later, Scottie shot his own load, which flew past his stomach, almost reaching his chest.
Scottie's hole was worked over, and his body was covered in cum. I asked how the experience was. Scottie just said, "A lot… but good."