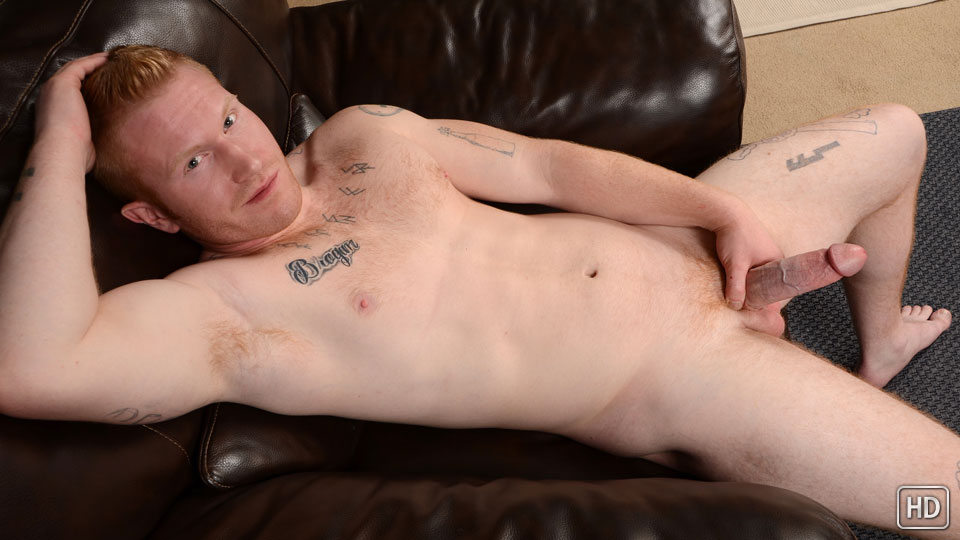 Watch the full scene:
Join Now!
Ginger alert!
25 y/o Perry was looking for ways to make some quick cash when his girlfriend suggested that he give porn a try. He certainly seemed to have some great assets for it-- he's quite the powerhouse with a solid build and piercing blue eyes. And that was just what I saw before he dropped his pants.
Perry had an interesting introduction to jerking off when his two buddies showed him how to do it while on a camping trip.
"We were in a tent; there were three of us in there," he explained. "I'd never done it before and we went all night."
These days, Perry said he doesn't have much need for jerking off since he's normally hooking it up with his girlfriend a couple times a day. But since he wanted to make a good impression he had saved up a 3-day load.
He was ready to rock n' roll once the denim hit the floor. Even before he started getting hard, it was obvious he had a thick cock. At full mast, it was an easy 6 inches around with a slight downward curve.
Perry has a back and forth stroking style, switching it up to go backhand while wrapping the other around his balls like a cock ring. He said he preferred standing up while cumming so he straddled the chair and fucked his fist, cranking out a seemingly endless river of cum.
Tags: Big Cumshot, Hung, Redhead/Ginger, Muscular