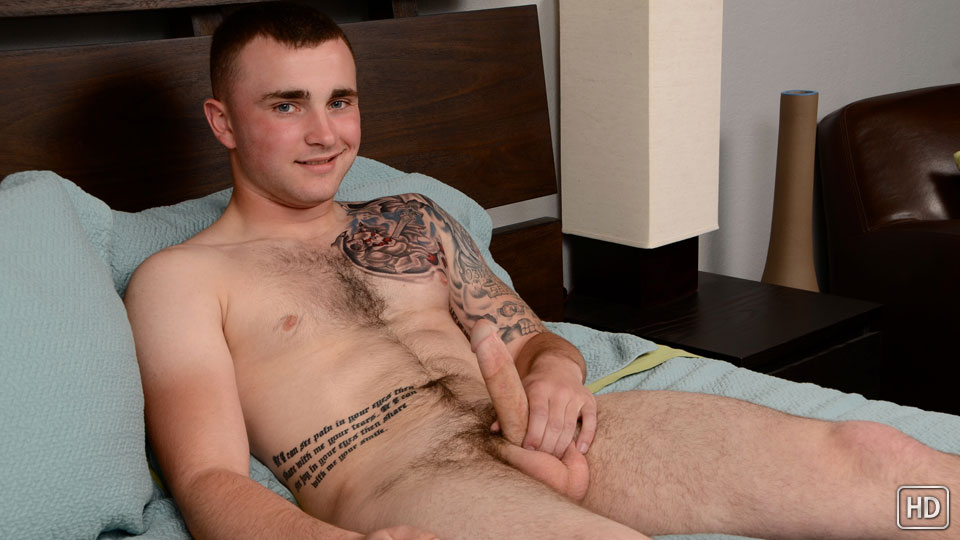 Watch the full scene:
Join Now!
Ooh-rah! 19 y/o Baird is a transplant from the east coast, coming to San Diego courtesy of the Marine Corps. And what a pocket-sized hottie he is!
Standing just barely at 5' 6", I figured with his tight, muscular build that Baird would have been a wrestler before joining up with the military.
"I hear that a lot," he admitted. It turned out that Baird was more of a baseball player. And a bit of a quiet and shy one at that.
Baird was a little surprised when he got an offer to do porn; something he said he's thought about only briefly up until now. I think he was still soaking up the idea that he'd be getting naked on camera by the time the cameras were being pointed at him. Although bordering on what you might consider "nervous," Baird had a glimmer in his eyes that hinted at being secretly turned on by showing off his furry bod.
While he wasn't the most vocal guy during his shoot, when Baird was ready to cum, he made up for the silence. With a 3-day load stored up in his balls, it was no wonder: the ropes of cum that spewed onto his stomach sounded like they were well worth the wait.